What is iCysMod
Cysteine is a functionally important amino acid and often targeted by multiple post-translational modifications which play critical roles in modulating a variety of biological processes. The iCysMod is a protein cysteine modifications database that curated and hosted the published 8 types of cysteine modification events including 85,747 sites on 31,483 proteins in 48 eukaryotes. Various browse and search options are provided in the database, and the detailed information is organized and visualized for queries.
How to use iCysMod
Quick Search
In the home page of iCysMod, users can start a quick search with the keyword(s) of interest or simply choose an example that we provided above the input field and then click the search button to perform an example search.

Browse
In the Browse page, the first diagram for "Data statistics in iCysMod" shows the protein numbers of different modifications in different organisms. Users can click one bar to see the protein statistics under different modifications of a certain organism, and the results are shown in the second diagram on the right. Furthermore, users can click the types of post-translational modifications to see the protein statistics of a or some certain modifications in different organisms. Besides, users can also scale the diagram by control element at the bottom, or through the mouse wheel to select the showed organisms for protein statistics.
Moreover, users can click one bar of the second diagram on the right to see all the proteins with a certain modification of the chosen organism, and the results are shown in the table at the bottom of this page. In the table, users can click the 'More' button to see the detailed information of interested protein.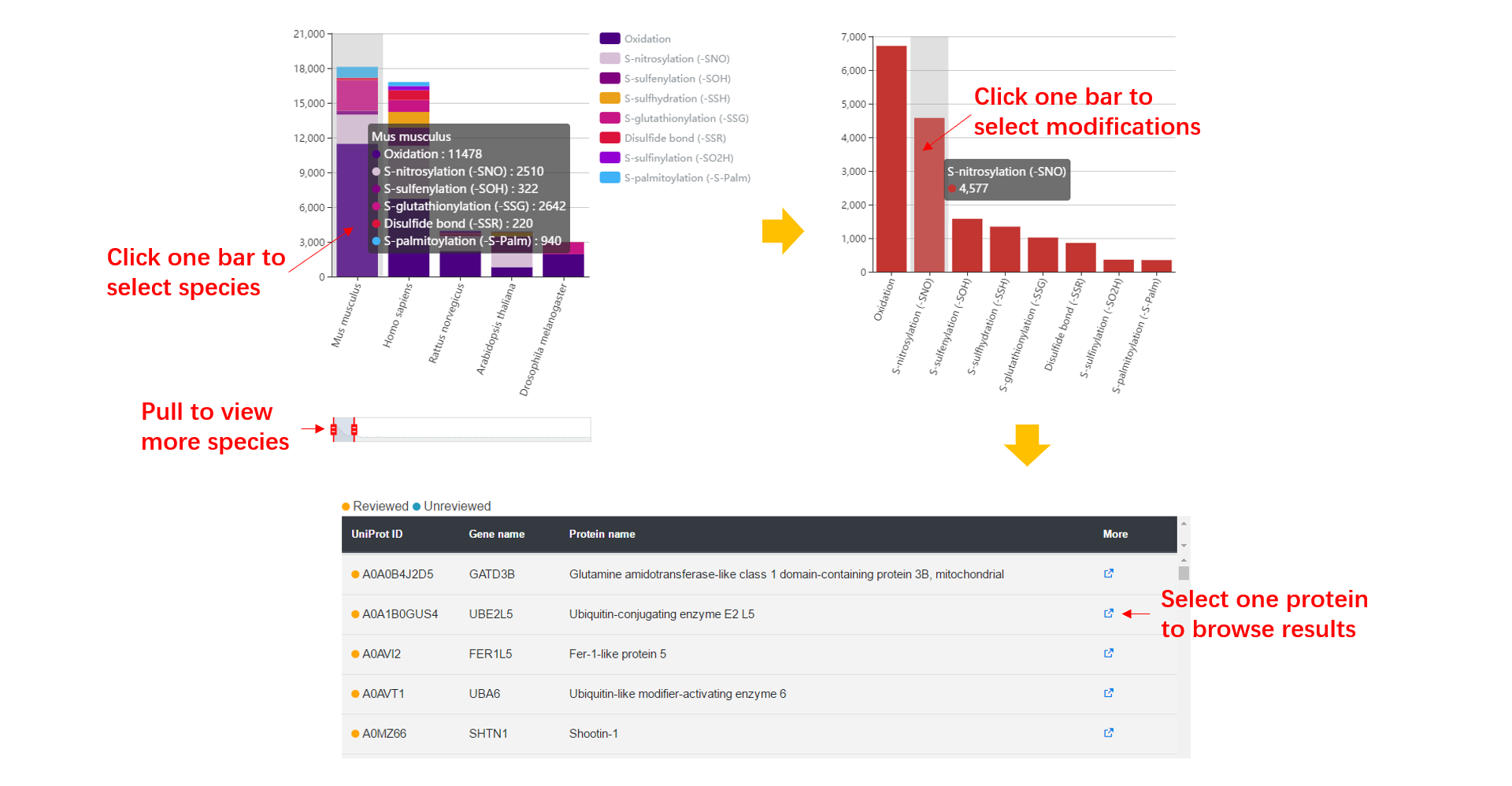 Search
In the Search page, users can enter a keyword of UniProt ID, Gene name or Protein name to find the related information, all matched results will be shown in the table below. Also, we provide some examples for each search type, while users can simply click the example and Search buttons to begin a search.

Result
The result page shows the results that users are interested and users can get more detailed results by click the 'More' button.



Cysteine modification Resources
UniProt
The mission of UniProt is to provide the scientific community with a comprehensive, high-quality and freely accessible resource of protein sequence and functional information.
https://www.uniprot.org/
dbSNO
dbSNO is extended as an informative resource for exploring structural environment of SNO substrate sites and regulatory networks of S-nitrosylated proteins.
http://dbSNO.mbc.nctu.edu.tw
dbGSH
dbGSH is a database that integrates the experimentally verified cysteine S-glutathionylation (GSH) sites from multiple species.
http://csb.cse.yzu.edu.tw/dbGSH/